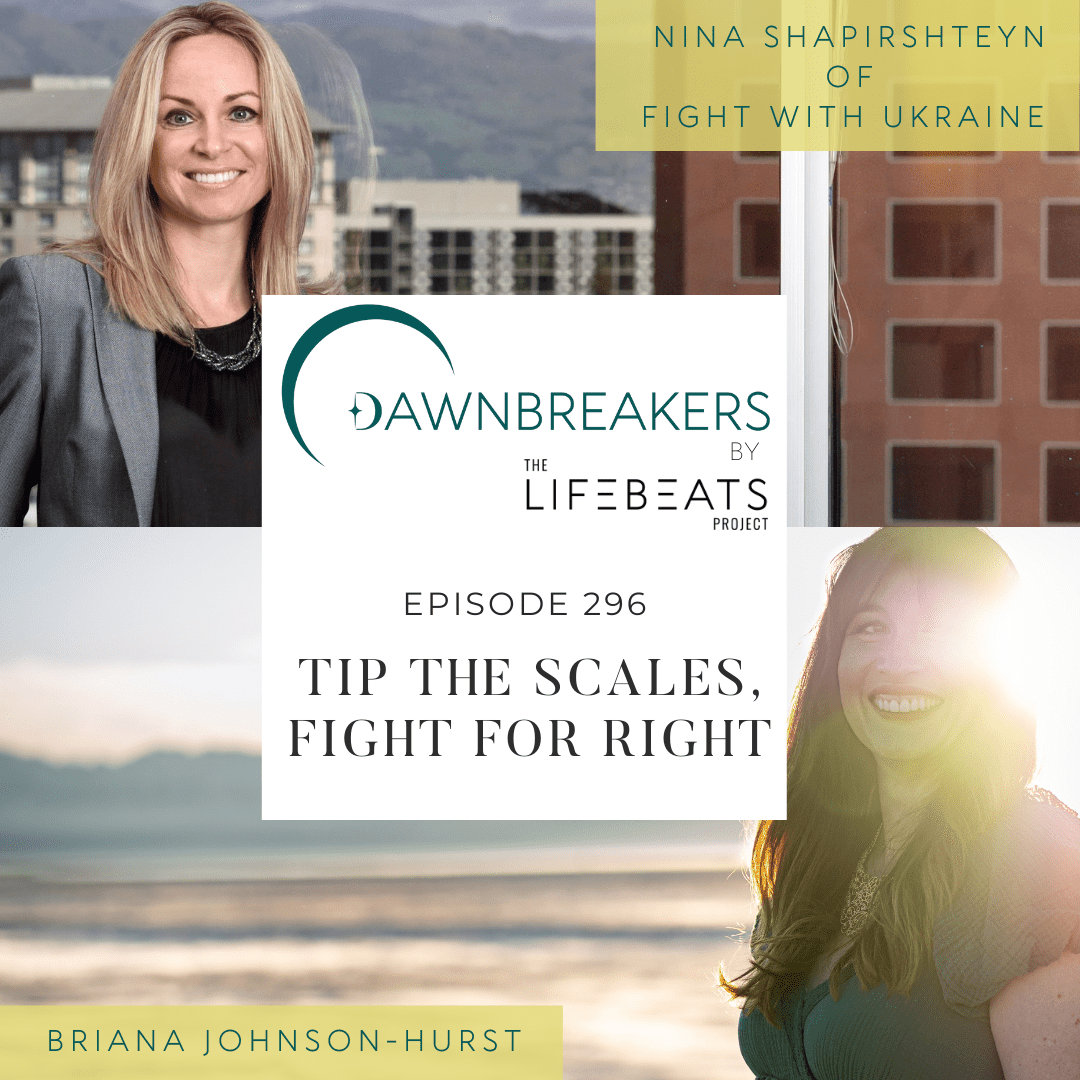 "When you believe something is not just, you have to do everything in your power to make it just, to tip the scales."  On today's podcast I have the honor of conversing with Nina Shapirshteyn of Kyiv, Ukraine now living in the United States.  Devastated by what she is seeing happening in her home country and torn by her own desire to go back and fight, she decided to take action where she is now and began fundraising for much needed life-saving gear for the Ukrainian army.
Nina grew up in the former Soviet Union, in a communist country where they were taught in school that there is no God.  Nina openly discusses her own inner sense of right and wrong, a moral compass that has guided her throughout her life to help those who have been wronged tip the scales in their favor.  Now a personal injury attorney, Nina was inspired by her freedom fighting family who taught that standing up for right is just what you do – parents who rose up against things they believed were wrong, a father who printed forbidden books, and a great-grandfather imprisoned by Stalin as a political prisoner for his free speech.
Nina discusses how her anti-gun, pacifist self became a supplier of over $120,000 worth of night vision goggles and bullet proof helmets raised for the Ukrainian army, how she is handling the questions by her 2 year old daughter of what she is seeing, and explains further the unimaginable as she watches countries at war, countries who share family members.
Listen and be inspired to take a stand for what is right, identify your own moral compass, and transport yourself into the mind of someone who understands what is at stake in this war.
The war advances and more helmets are in need!  Your donations are needed.  Click on the link below to take action today.
Show Notes:
Donate here:
fwukraine.org. https://www.fwukraine.org 
https://bit.ly/3tDVT0B.
email [email protected]
IG is:
Facebook:
News articles on what Nina is doing:
Our 2 of 3 shipments of night vision goggles have reached Ukraine safely.  The 3rd one is on its way.  Now, we need helmets!
Podcast: Play in new window | Download
Subscribe: RSS