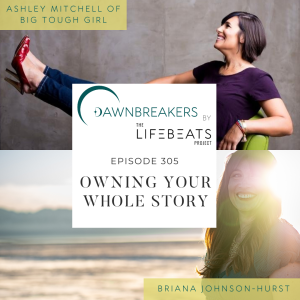 Today my friends I am so honored to reshare a story from the LifeBeats Library,  Dawnbreaker Ashley Mitchell of Big Tough Girl is an advocate for not only birth mothers who have placed their babies for adoption, but for all women who have experienced hard things and are looking for a place of support and healing. On our episode today we will be discussing some very difficult subjects, including abortion, and I would ask that you are considerate and respectful of her experience and her opinion which may differ from yours. Ashley shares about growing up believing that her worth and power were tied into the way she looked and how that played into a marriage she feels never connected beyond a physical relationship. She tells of becoming pregnant after her divorce and how she hid it from her family for nearly 8 months. She recounts her thought process and experience going to an abortion clinic and the moment that changed her life when the nurse told her that she was too far along to have an abortion. Ashley shares why she decided to place her child for adoption and her unexpected experience at the hospital after giving birth. She tells of the years of self destruction that followed filled with casual relationships and substance abuse as she avoided having to feel the grief and loss. She shares why a breakdown that led to an ambulance ride and stay in the hospital was the best thing that could have happened to her and some of the key things she learned that helped her to finally be on a path of healing including acceptance, accountability in owning your whole story, and the power of sharing it. Ashley talks about the community Big Tough Girl and the group of women who have come to find support and skills to overcome anything and how being able to help others avoid the self destruction she experienced has brought purpose to her brokenness.
Listen and be inspired to accept yourself in the truth of your story and feel hope in what your future looks like.
Want to know if this episode it for you? This episode is perfect for someone who is wanting inspiration and ideas on how to overcome hard things and who may be looking for a community of women to receive support through it. It is perfect for someone who would like to find out someone's experience and opinion about abortion and more about what it feels to place your child for adoption be a birth parent.
What is this episode about?
In this episode you will learn about:
why Ashley grew up believing her worth and power were tied into the way she looked
how that affected her first marriage
her experience in her 20s of standing in front of a mirror wondering who she was
how she handled emotion by not talking about it
why she decided to get an abortion when she was single and pregnant
her experience of being in the abortion clinic and finding out she was too far along to have an abortion
what she believes God was showing her at that moment and how that changed her life
the lengths she went to hide the fact that she was pregnant from everyone and how her mom finally found out at 8 months along
her decision to place the baby for adoption
her unexpected experience in the hospital and cherishing that time of being her son's mom fully
the moment of leaving her son with another family
the years of self destruction from substance abuse and casual relationships that followed due to grief and sorrow
why hitting rock bottom and ending up in the hospital was the best thing that could have happened
the very best step she took to recovery and how she began to take accountability for her whole story
how she began to share her story and create a community of other birth mothers
how all women who have experienced hard things were attracted to her message of a Big Tough Girl
creating a lifetime support for birth mothers
the purpose of preventing just one other person from years of self destruction by being a voice for others
the Big Tough Girl community and the support it provides
Show Notes:
Big Tough Girl website  http://www.bigtoughgirl.com
Ashley's Instagram feed @bigtoughgirl   https://www.instagram.com/bigtoughgirl/
Lifetime Healing Foundation www.lifetimehealingfoundation.org
Podcast: Play in new window | Download
Subscribe: RSS