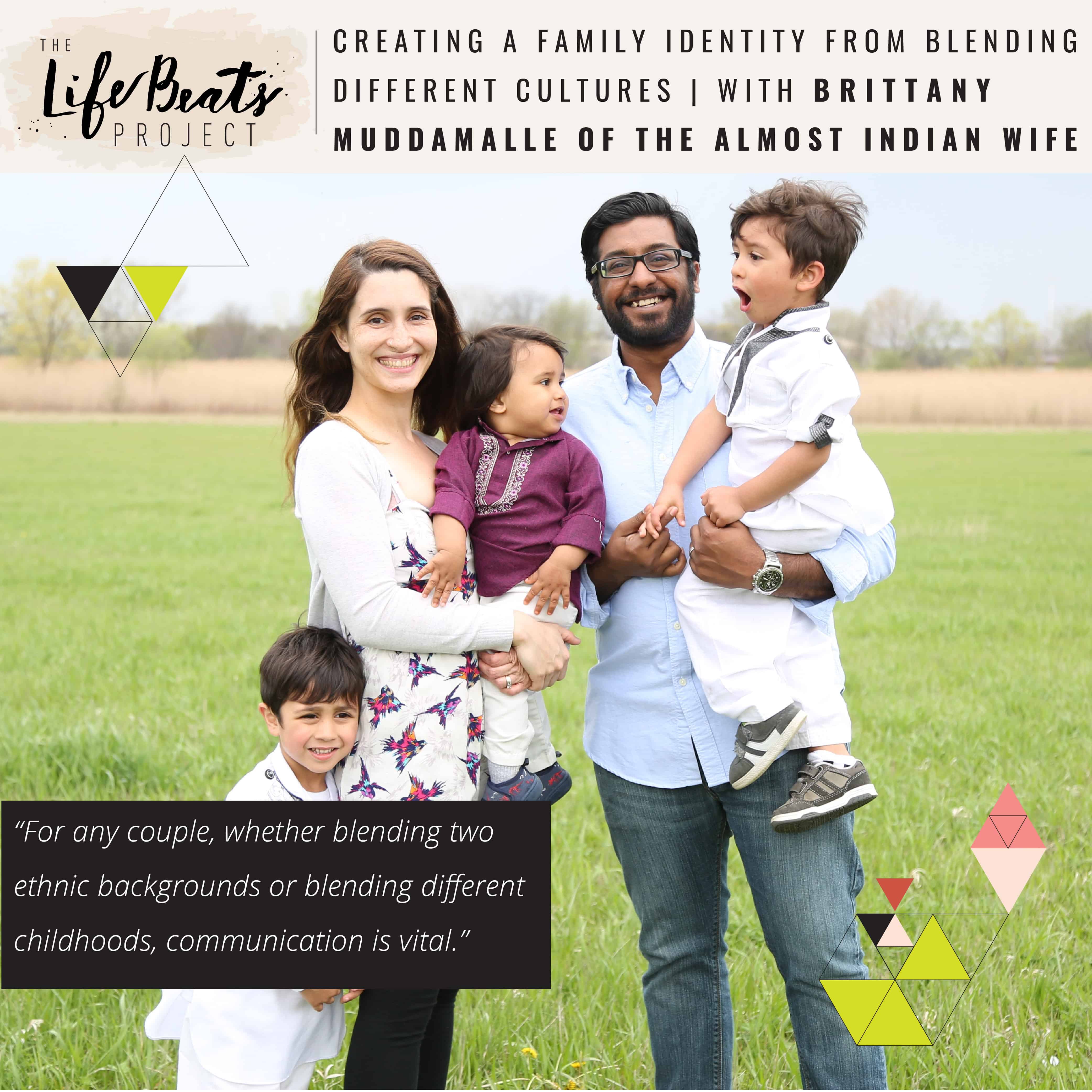 Brittany Muddamalle, the Almost Indian Wife, shares the joys and challenges of having a multicultural family, she being American and her husband from East Indian.  The insights she shares on how they have developed their own family identity and culture can not only be applied to into interracial couples, but to anyone who is blending two different cultures/upbringings into one relationship.  Brittany talks about being raised by a single mom and the relationships she developed with both her step and biological dads.  She shares how she met her husband and why they couldn't start dating right away.  She talks about how most of their blending of cultures came after they had kids and the intentional plans they made to create their own family identity.  Brittany shares how to deal with outside pressures and how to help your children deal with teasing and to feel pride for his culture.  She also gives advice on how anyone can approach interracial couples with questions as well as how to increase communication in your marriage.  Listen and be ready to think about how you can implement these ideas into your own family life.
I am so excited to let you know that Brittany's e-book that she gave us a sneak peek of in the episode is launching today!!  In "The Wife's Guide to Intercultural Relationships"  Brittany provides insights on blending cultures, dealing with outside pressures, and what it looks like in your marriage and with your kids.  This e-book is for anyone blending two different upbringings or cultures into one relationship.  She is offering 20% off, that's $1 off her $4.99 e-book for The LifeBeats Project listeners by entering the code 'lifebeatsproject' at checkout by clicking here.
Want to know if this episode it for you?  This episode is perfect for someone who is looking to blend their and their partner's culture into one family identity and for someone who is looking for some advice on enhancing communication in their relationship or marriage.  It is also perfect for someone looking to raise bilingual children and children open to embracing other cultures.  It is also great for someone curious on how one family has blended two cultures to create their own unique family culture.
What is this episode about?   In this episode you will learn about:
what it felt like growing up being raised by a single mom and not knowing her biological dad
the role of her step dad and how he has become her real dad
the story of her finding her biological dad
what she was doing while she met her husband and what she noticed about him
why they were not allowed to date for awhile
what did Joel do before they started dating
what their wedding was like
when did they really start being intentional in blending cultures
how Brittany was received into the Indian culture
what the most difficult thing of being part of another culture
what aspect of her personality has been perceived differently from the Indian culture than she would have imagined
where did outside pressures come from and how she struggled with feeling enough
what has been the most difficult expectation
what being a multicultural family means
how to create a family identity
how she has raised bilingual children and children open to embracing other cultures
what blending cultures is really about
how has it effected her children already at a young age
how she has handled teasing of her children
how should someone handle asking questions of someone else's culture
what she has learned about herself in blending cultures in her marriage and family
how Indian style has affected the way she dresses
building communication within a marriage
Show Notes:
Brittany's e-book "The Wife's Guide to Intercultural Relationships"  – be sure to enter the code 'lifebeatsproject' for 20% off, that's $1 off of $4.99
The Almost Indian Wife FB Page
The Almost Indian Wife Instagram Feed
Brittany's post "Intercultural Couples: The Feeling of Not Doing it Well Enough"
Brittany's post "Tips for Raising Bilingual Children"
Podcast: Play in new window | Download
Subscribe: RSS