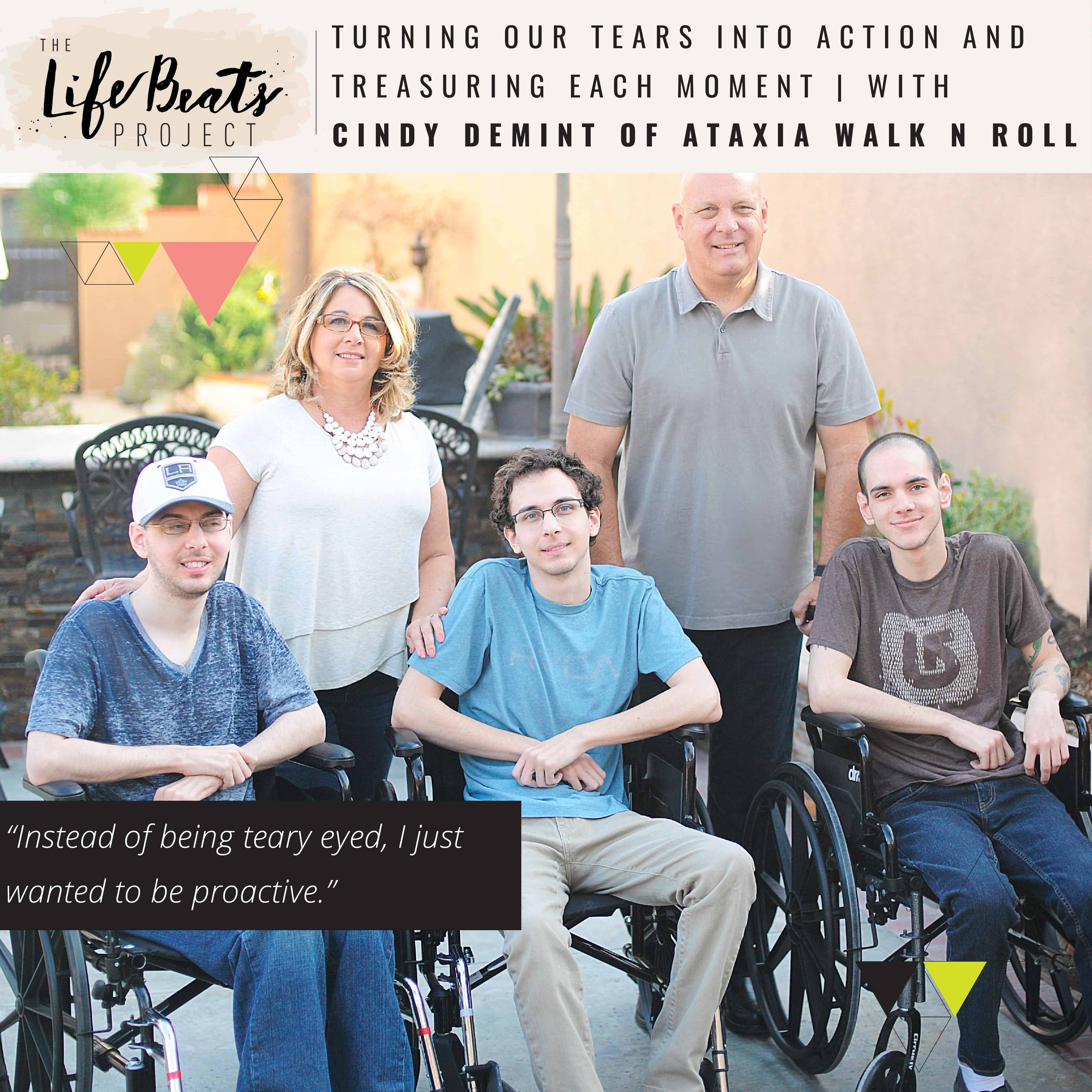 Cindy DeMint is a longtime family friend who has dedicated her life to the care of her children in a most saintly way.  She is one of the most selfless women I know!  All three of her boys grew up healthy but as teens were diagnosed with a genetic degenerative neurological disorder called Ataxia that effects fine motor skills, balance, and eye sight with symptoms similar to ALS.  Hear the story of how her first son was diagnosed in high school when a neighbor approached her that her son perhaps had a drinking problem due to the symptoms he was exhibiting.  After years of not knowing, he was diagnosed with Ataxia only to learn there was no cure.  Learn more about the disease and what daily life looks like in the DeMint home and how they bring three boys in wheelchairs out of the house.  Cindy has let her tears turn to action to become a voice and driving force for awareness throughout the country in hopes of helping to find a cure.  She shares how it could be so easy to just stay home and keep the boys comfortable, but how they are trying to push themselves to do the next thing to find the next step to bring awareness. She is confident in her purpose and relates how she was prepared in her own teen years to love people unconditionally.  She shares her feels about watching her friends' children celebrate milestones she knows hers will not and her advice to young moms knowing what she knows now.  Listen and be inspired to treasure each moment, not take things so seriously, and to turn your own tears into motivation for action!
I am so excited to share more details of our beautiful and meaningful Story Search Soiree with you on my personal blog www.journeywithjohnsons.blogspot.com including the videos of some of the attendees sharing their stories, photos by the talented Diana Putnam Photography, and how you can be involved in my new social media campaign to share more of your stories!!
To celebrate hop on over to Instagram @lifebeatsproject for a chance to win a $50 giftcard to the Story Search Soiree sponsor who provided our decorations – darling bunting and felt ball strands, wooden flatware, …  My Paper Crush, a party and paper store dedicated to bringing you all the pretty things in one place.  Look for the giveaway post of the soiree for the details on how to enter!  The giveaway will run from Mon Sept 19th to Thurs Sept 22 at midnight MST.
Show Notes:
Brothers on a Quest Facebook page
National Ataxia Foundation website
Podcast: Play in new window | Download
Subscribe: RSS