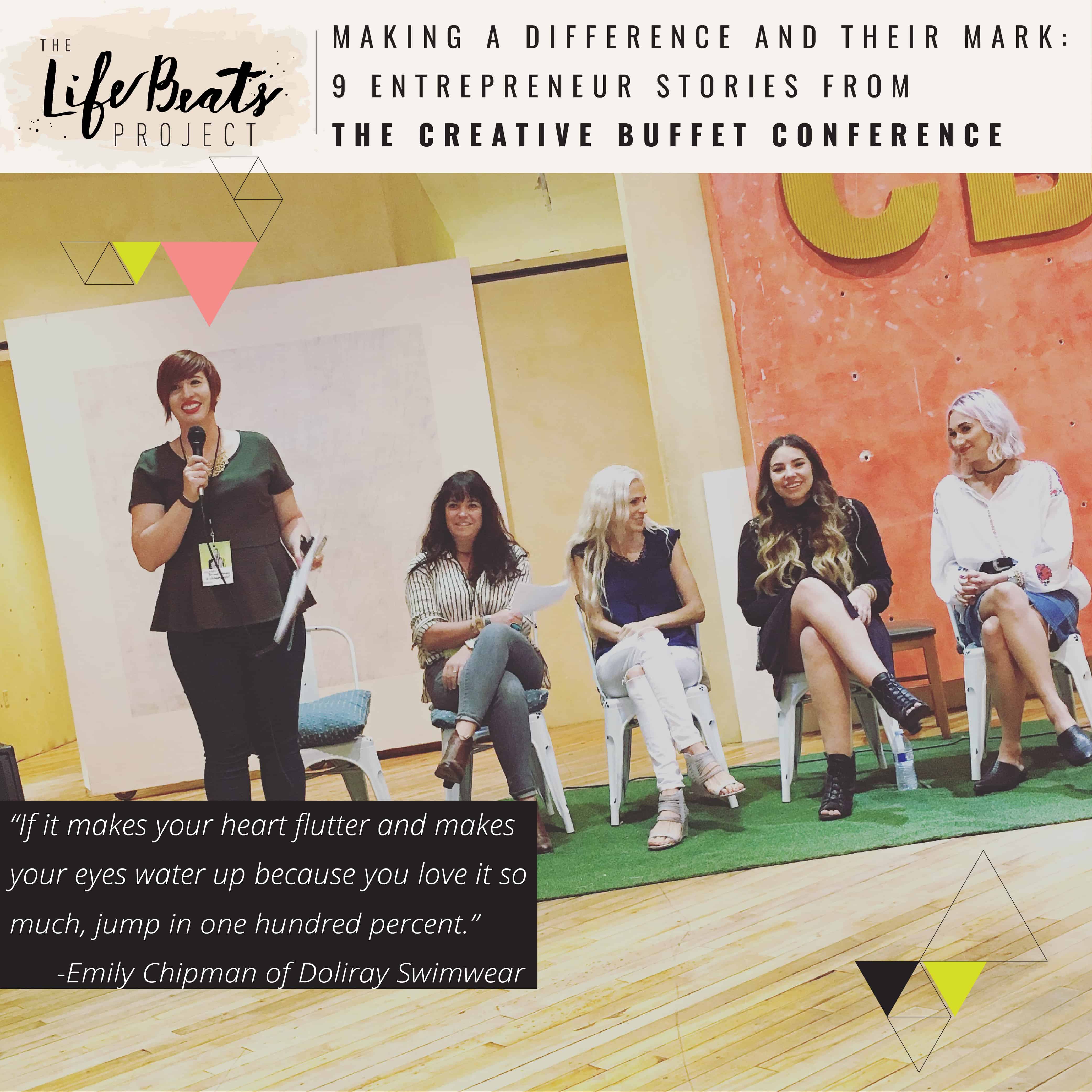 For today's unique episode, an episode aside from our normal weekly episodes, I am sharing with you a series of 9 mini-interviews I conducted at the Creative Buffet Conference I MCed this past September of entrepreneurs and their journeys.  This conference was dedicated to the creative, the entrepreneur, the small business owner and was put on by the lovely and incredibly driven Heather Rae of Heatherraeblue.  I loved being able to talk to these dream makers to learn the story behind their brand or business, the obstacles they have overcome along the way, what they have learned about themselves through this process, and what their vision is for their future.  You will hear from
1. Emily Chipman of Doliray Swimwear,
Doliray Swimwear Website and Instagram Feed
2. Kim Christenson of Talk Wordy to Me,
Talk Wordy to Me website and Instagram Feed
3. Lauryn Hock of Lauryncakes,
Lauryncakes Website , Instagram Feed , Facebook Page ,Twitter Feed  
4. Samantha Hartman of Infinite Abyss
Infinite Abyss Website , Etsy Shop , and Instagram Feed
5. Meagan Flora John of Hearts of Gold,
Hearts of Gold Blog , Instagram Feed
Email: [email protected]
6. Lexie Dopp of Lexie Faith,
Lexie Faith Website , YouTube , Instagram Feed , and Facebook Page
7. Brandy Fowers of Teddy's Timeless Treasures,
Teddy's Timeless Treasures Facebook Page and Instagram Feed
8. R'ylee Scott of Darling Me Avenue,
Darling Me Avenue Website, Instagram Feed , and Facebook Page
and 9. Braden & Mo Bijold of On Geneva.
Listen and be inspired to take that leap or next step in your own creative or business pursuit or just to be brave in whatever goal you have set for yourself.  This episode is coming at a perfect time to support small businesses during this holiday season.  Maybe I just helped you finish your Christmas list.  You're welcome:)
Podcast: Play in new window | Download
Subscribe: RSS