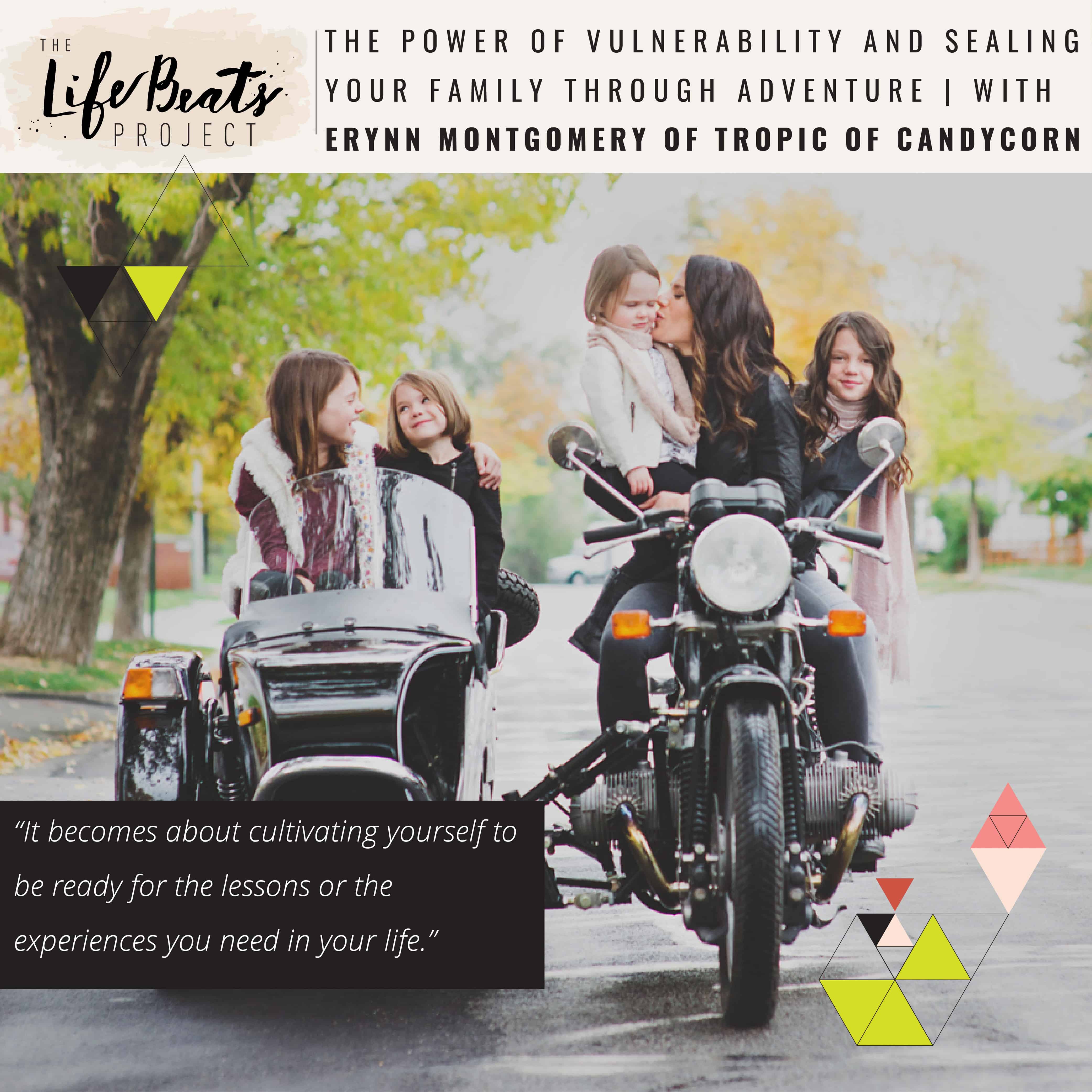 Erynn Montgomery from Tropic of Candycorn shares her passion behind encouraging families to make meaningful memories together, particularly through travel away from their home, as she Skypes with me from Ecuador where she had been traveling with her 4 young girls for the month.  She tells of growing up with a single mom who could never afford to take her and her 4 siblings on vacation, but how a roadtrip they shared helped her to see the benefits of taking people out of their day to day environment to stretch outside of their comfort zone and connect.  As a little girl she would pray for world peace and wanted to fix things and make a small difference.  This led her to the humanitarian world to which she would become the CEO of a international humanitarian organization in Latin America, which was the hardest thing she has done in her life.  She shares the story of a 2 year old girl who fell into a pig pen and lost her arms and why years later watching her reach for a lollypop was so healing for both the mother and Erynn.  Erynn talks about the benefits of an international education and how unenrolling her children from public school is the best thing for them.  She also shares her bravery of being on the show when she reveals that she would rather shave her head or eat worms in the Amazon than share her personal story and be vulnerable, but how sharing our fears and imperfections help us to see that we are all just trying to do our best.  She shares about the Surf & Yoga retreat in Costa Rica she created for moms and what she is doing now to create that small difference through her work through Tropic of Candycorn to help families create meaningful vacations and memories and how you can too.  Listen and be inspired to create opportunities for ourselves and for our families to step outside of our comfort zones to stretch, grow, and create connections.
Want to know if this episode it for you?  This episode is perfect for someone who is looking to enrich family relationships and looking for inspiration for ways to create adventures together.  It is perfect for someone who is looking to give their children a broader view of the world and wanting to explore an international family experience.  It is also great for someone wanting to know more about international humanitarian organizations and how they can make a difference.  It is just for someone who wants help on traveling with children.  It is also perfect for someone who may be letting fear hold them back from connections and cultivating themselves.  It is also great for those interested in planned retreats and family vacations.
What is this episode about?   In this episode you will learn about:
why Erynn is in Ecuador with her 4 girls
why she stepped away from the humanitarian organization
the purpose of Tropic of Candycorn and why it was started
how 80% of a child's happiest memories are outside of the home
life being raised by a single mom and the road trip that helped her get to know her for the first time
how taking people out of their environment will help them to stretch and grow
how kids don't care about how much money we spend on a trip, just that we are together
how Erynn was a little girl that prayed for world peace and loved to fix things and how her household fostered her peacemaker role
her transition to becoming a CEO and President of an international humanitarian organization in the Inca parts of South America and why it was the hardest thing she has ever done
why some of the decisions made in the organization seem counter-intuitive
incredible story of a 2 year old girl who fell in a pig pen and lost her arms and how years later the sight of her reaching for a lollypop healed her mother and Erynn
what people should keep in mind when adding a humanitarian component to their vacation
how she unenrolls her kids for vacation and why their education abroad and home is more important than public school
how she encourages her girls to take bits and pieces of the world they see around them and create their own world
how brave Erynn is for sharing her story as she would rather eat worms in Amazon or shave her head
the role of vulnerability and sharing our fears
how the Surf & Yoga retreat in Costa Rica for moms began and the purpose of it to help these women get out of their comfort zone but feel supported
the importance of taking time for yourself, meditation, and cultivating yourself
travel tips and planned trips through Tropic of Candycorn
how Erynn will answer your questions and give you a needed nudge
Show Notes:
"When Gummy Bears Bond" Tropic of Candycorn blog article
"Absent from School for Vacation"  blog post, survey, and letter
email Erynn: [email protected]
Boiler Plate trips coming soon on Tropic of Candycorn on Oct. 14th!!
Podcast: Play in new window | Download
Subscribe: RSS