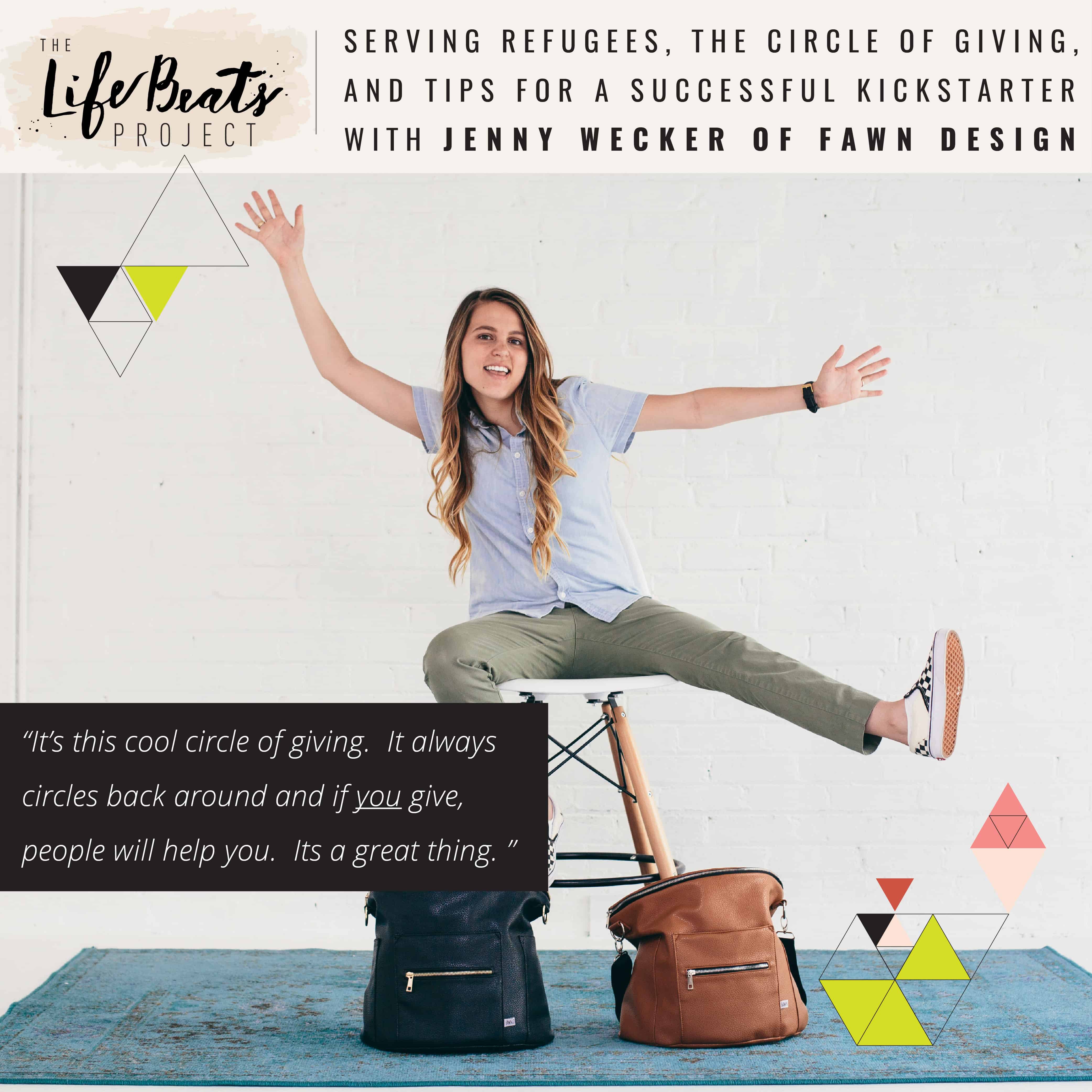 Today I am so happy to introduce you to seamstress, kickstarter pro, and business owner of Fawn Design, Jenny Wecker.  Jenny takes us on a journey of using her talent and passion coupled with time management and tenacity to create a thriving business for her family.  Jenny shares how her love of sewing began as as she was taught by her mother at a young age of 5 and the hot pink stretch velvet dress that boosted her confidence.  She shares the crucial role Kickstarter played in the growth of her business as the demand for her stylish and functional diaper bags grew beyond her capacity to sew and how she raised $42,000 in 15 days.  She offers 3 key pieces of advice for success on Kickstarter.  Jenny also shares how she has been involved with helping refugees here in Utah, home to 60,000 refugees from around the globe, and introduces us to the Serve Refugees app which provides specific ideas and projects that you can become involved in at a local level.  Jenny also reveals something that she has regreted that spurred her desire create a weekly Periscope to help other budding entrepreneurs.  Be ready to be inspired to utilize your talents for the good of others and for a big dose of 'yes its possible'.
I am so excited to be able to offer a special giveaway just for The LifeBeats Project listeners.  One lucky listener will receive one gorgeous Fawn Design diaper bag by entering with 3 easy steps:
Follow @lifebeatsproject and @fawndesign on Instagram
Subscribe to my podcast in iTunes –  Search for The LifeBeats Project in the iTunes Store under Podcasts and then click 'subscribe' below Mike & I's photo
Look for the giveaway post in Instagram of the Fawn Design diaper bag and comment with the word 'subscribed' and two friends who would love a chance to win
The giveaway will run from Monday night June 6th to Sunday at midnight MST June 12th.  Fingers crossed for you my friend!
Show Notes:
Podcast: Play in new window | Download
Subscribe: RSS