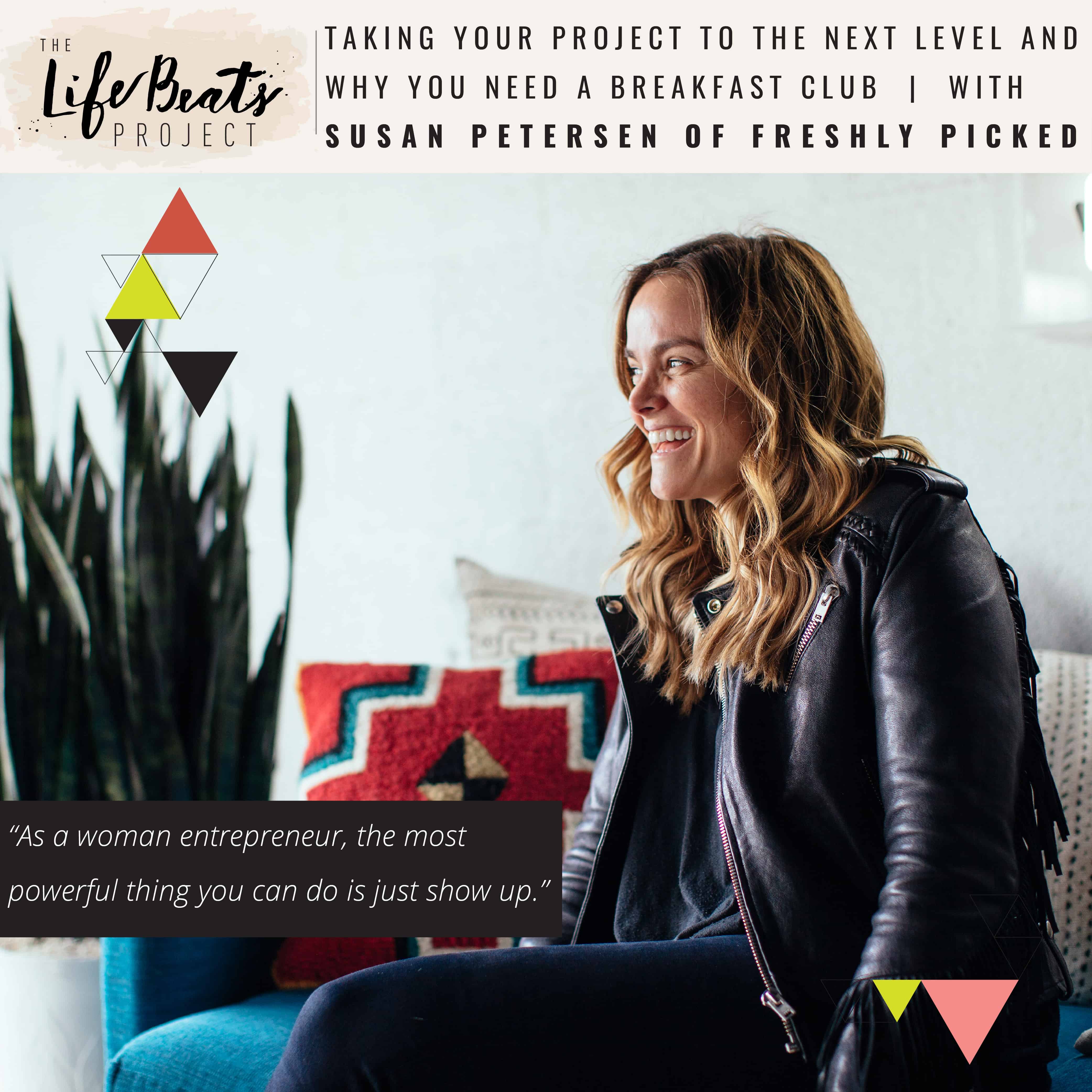 In today's episode I have the privilege to introduce you to Susan Petersen, the powerhouse CEO and founder of Freshly Picked, a baby lifestyle brand most famous for their stylish soft-soled baby moccasins that actually stay on their feet.  In 2006 Susan decided to learn how to sew and start selling stuff online when some bills began stacking up.  In 2009 she started making moccasins on her kitchen table and sold them on Etsy.  She has built Freshly Picked to become a multi-million dollar business that is in Nordstrom, 300 specialty boutiques, Zappos, and soon to be Saks 5th Ave & Bloomingdales.  Susan knows a little something about business and being a woman entrepreneur while raising a growing family.   Today she shares some insights that have led to her success such as following her gut and the power of The Breakfast Club, as well as three things you can do to take your project or passion to the next level.  Susan also shares what she is doing to foster a new generation of women entrepreneurs with a passion project called Breakfast of Champions.  She opens up about the lonely road of an entrepreneur and why this past year was the hardest year of her life, as well as the impact this journey has had on her marriage and why she wouldn't have even put herself out there to create this business had it not been for her children and what she has learned about herself along the way.  Listen and be inspired to trust yourself more and take your own passion to the next step.
Its the Freshly Picked's semi-annual sale, Saved by the Sale, happening tomorrow May 25th.  To celebrate I am having a 24-hour giveaway Tuesday May 24th for lucky winner of a pair of soft-soled baby bliss.
To win simply head to my Instagram feed @lifebeatsproject and find the adorable photo of my baby girl Evelyn wearing a pair of Freshly Picked's Legend moccassins.  Follow me and @freshlypicked and then tag as many friends as you want to share this good news.  Each comment is an entry.  Ends Tuesday May 24th at 10pm MST so you can get your hands on your favorite pair before they sell out at the sale.
Want to know if this episode it for you?  This episode is perfect for someone wanting to learn how to take their business, project, or passion to the next level or who wants to learn from a woman entrepreneur who has created a successful business while raising a young family.  This episode is perfect for a woman who is the bread winner of her family.  Also for someone who loves the Freshly Picked brand and wants to know more about the journey and culture of the company but whom also wants to know more of the personal side of Susan Petersen.
What is this episode about?   In this episode you will learn about:
the influence of woman role models in Susan's life – her grandmothers, mother, and sisters
why saying, "I'm going to make stuff and sell it online" is all you need to get started
why Susan decided to teach herself to sew in 2006 and to sell moccasins in 2009
how she knew how to price her moccasins
when she brings others in to help her and when she doesn't
what the biggest mistake is that entrepreneurs make
how you find the right people for your business
how she makes decisions
trusting your gut
some of Susan's business crossroads
why she's not afraid to fail
what is the most powerful thing you can do as a woman entrepreneur
What a Breakfast Club is and why you need one
what Susan is doing to foster a new generation of women entrepreneurs and what Breakfast of Champions is
why last year was the hardest year of her life
the new direction of Freshly Picked
three things you can do to take your project, business, or passion to the next level
some business statistics for Freshly Picked over the years
what Susan has learned about herself along this journey
why she wouldn't have put herself out there and started this business if it wasn't for her kids
how running a business is like motherhood
what her gift is and how it had to do with being on Shark Tank
why we shouldn't believe the hype about ourselves, good or bad
how running Freshly Picked has impacted her marriage
why she likes to keep her doubts
why making lateral moves were great for her business
why she is doing things that scare her
why being on social media makes her uncomfortable
Show Notes
Susan on Shark Tank
Semi-Annual Sale, Saved by the Sale
Podcast: Play in new window | Download
Subscribe: RSS