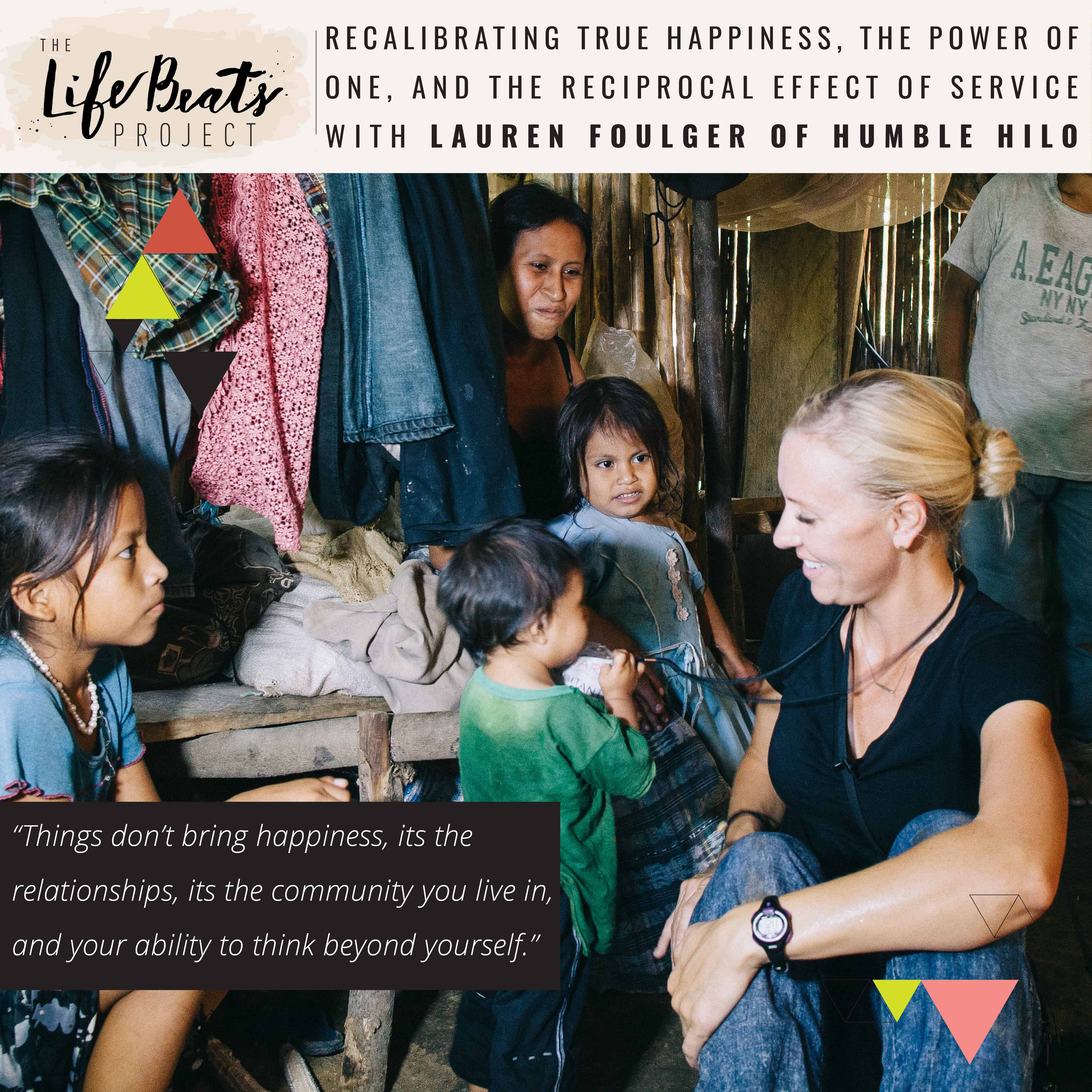 Lauren Foulger is the co-founder of Humble Hilo and director of World Link Partners and has made it her life's mission to create change in the lives of others.  I am sure you have seen Humble Hilo's beautiful handmade textile bags, now you can hear about their story of why it began and how partnering with World Link Partners they are creating opportunities for Guatemalan women to support their families through projects in child nutrition, education and literacy for women, and microfinance loans for women to start their own small business to change theirs and their families lives which in turn changes communities.  Lauren was raised in a philanthropic home that continually served.  She later lived among impoverished villages in Guatemala and Kenya and in lands of devastation such as Thailand after the tsunami.  She has dedicated her life to improving the lives of others and has incorporated into her family life as a mother and has seen lives change through the opportunities provided through the combined efforts of Humble Hilo and World Link Partners.  She shares the story of finding a little girl's shoe on the shore of Thailand after the tsunami and the impact that made on her life as well as recounting the stories of two Guatemalan women and not only how their lives and the lives of their children have been transformed by the goodness of those involved with these organizations, but also how Lauren has been transformed by them.  Lauren shares of the light and community that exists amongst these women that our culture often lacks.  She tells of the cyclical process of the creation of their products to the purchase of them to how that money returns to these women and villages.    You will be inspired by Lauren's compassion and by the resiliency and courage of the many women in the remote villages of the Highlands of Guatemala.  There is so much good out there in the world my friends!
You my friends can be a part of this beautiful process by helping us spread awareness of this beautiful and high-impact business by entering their giveaway.  Enter it yourself and share it with all of your friends.  One lucky listener will win Humble Hilo's exquisite Nieve bag, a large leather bag with a white huipil (hwa-peel) accented with a vibrant colorful pattern.  On their website it shows that the purchase of this bag would provide either feeding a malnourished child 2 meals for 3 1/2 weeks, a portion of a microcredit loan to a woman for the duration of 2 weeks, or literacy classes for a woman for 3 months.
To enter follow these simple steps and click here:
Follow @lifebeatsproject and @humblehilo on Instagram
Subscribe to my podcast in iTunes –  Search for The LifeBeats Project in the iTunes Store under Podcasts and then click 'subscribe' below Mike & I's photo  (that's lifebeats one word – if something long autopopulates delete it and just type in lifebeats)
Look for this giveaway post on my Instagram of the Humble Hilo bag and comment with the word 'subscribed' and then in the same comment tag two friends who would love a chance to win!
*For additional entries tag more friends!
The giveaway will last until midnight MST on Thurs Sep 8.
Want to know if this episode it for you?  This episode is perfect for someone wanting to make an impact for good in the world and be involved in serving wherever they are.  It is  for someone looking to see goodness through difficulties and how those in dire situations can find true happiness in the midst of it.  It is for someone looking for inspiration and a way to feel strength in their own life.  It is also perfect of someone wanting to understand the cyclical process of the creation of their products to the purchase of them to how that money returns to these women and villages.
What is this episode about?   In this episode you will learn about:
Lauren's upbringing in a philanthropic home and her first experiences with serving outside her home
how she was transformed in high school by serving a homeless family and what helped her feel comfortable in getting to know them
how every time we go to serve we are the ones who come out changed
my story of Zinab and what she taught me
her experiences in college in the slums of Kenya and the devastated areas of Thailand after the tsunami
how finding a little girl's shoe on the shore of Thailand forever changed how she saw people's lives
her solo experience with the World Health Organization in the Highlands of Guatemala and what caused their impoverished state
the hopelessness she saw in these mothers' eyes
what she was inspired to do once she left Guatemala that first time
how Humble Hilo became partnered with World Link Partners
story of Carmella and the transformation of her family from extreme malnutrition to thriving and why she is raising not only her own 6 children but her sister-in-law's 5 children
the power of the partnership between Humble Hilo and World Link Partners on individual women and families
that there is a bigger plan and the little steps take us to bigger things
why it is a difficult transition for Lauren to go to Guatemala
why there is a light in the women of Guatemala
how Lauren defines and recalibrates what true happiness is after being in Guatemala
story of Manuela and the loss of her son to malnutrition and how gratitude created light inside her
focusing on the good despite hardships
the sense of community and support system among the women in the villages of Guatemala and how that is lacking in our culture
the purpose of The LifeBeats Project in creating community among women through the sharing of our life's story
what LifeBeats are and how they can create a sense of community in our virtual villages
the cyclical process of the creation of their products to the purchase of them to how that money returns to these women and villages
what a huipil is and how Humble Hilo uses them
how people can see what their purchase will provide for women and children
the goal of Humble Hilo for sustainability in transforming these villages through education, literacy, and small business opportunity
how empowering women will empower children then empower communities
the establishment of a health and resource center to help provide education and training after 7 years
Show Notes:
Podcast: Play in new window | Download
Subscribe: RSS