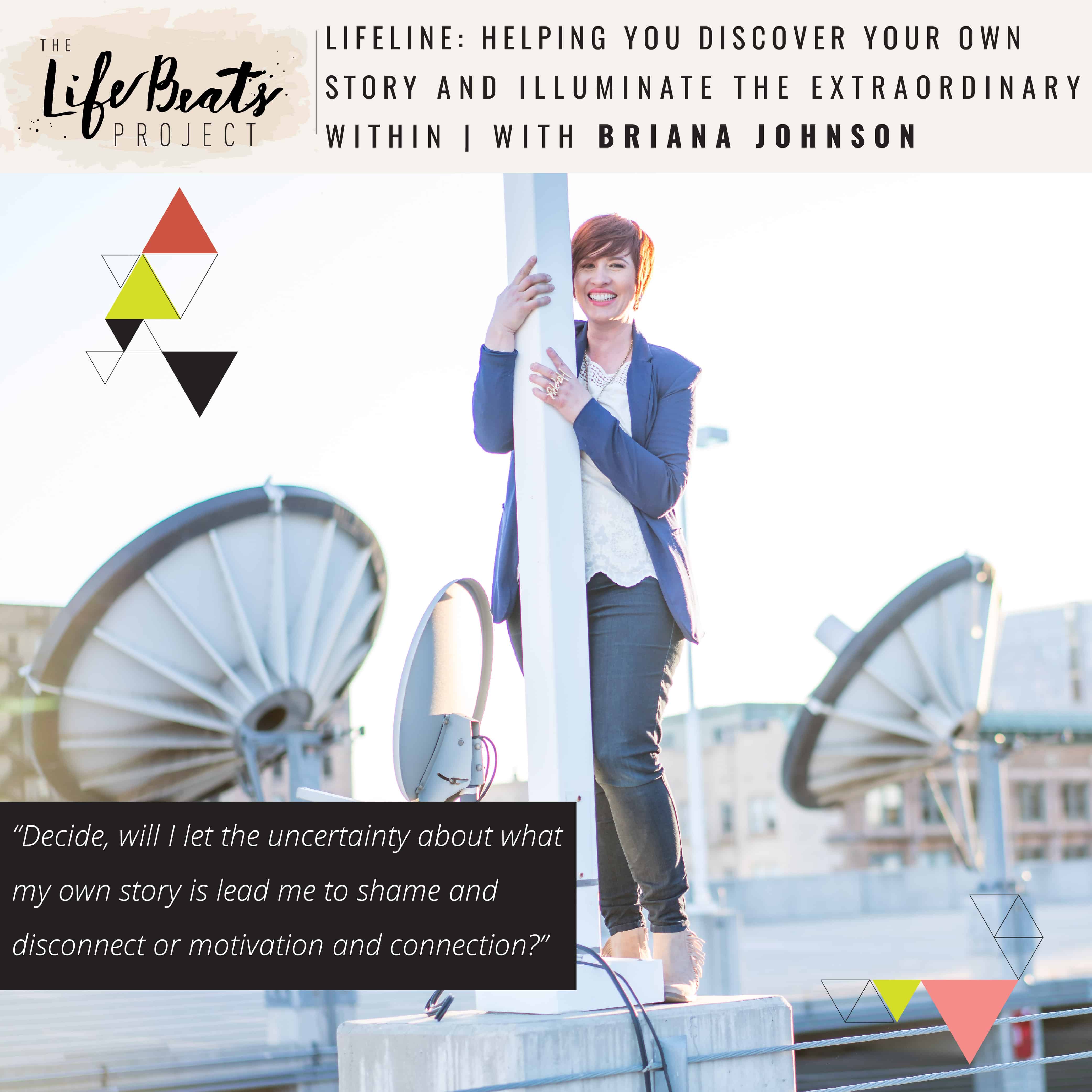 Friends I am doing something new!  Today I share about an upcoming podcast series called LifeLine in which I share practical ways to help you discover your own story and illuminate the extraordinary within.  Although The LifeBeats Project was only launched a little more than six months ago, it has truly been years in development.  I have absolutely loved what I have been able to do so far with it.  I hope you can feel how much I love what I get to do, through my microphone.  People are amazing!!  You are amazing!!  But there is so much more I can do to help you see that.  After months of trying to figure out how I can do that better and share my passion of your extraordinariness with you… after talking with business and social media experts, my friends, family, and especially my wise husband, I have decided to implement something new starting this week.  As I have struggled to know where to begin, I will share a podcast I did in my car, that shares how one listener's comment put a neon sign up in my mind on where I should start!  Today I share how The LifeBeats Project began, what its purpose is, who it is for, what LifeBeats are, and the levels of involvement you can have in the discovery and expansion of your own story through the podcast.  I share why our community is so important as we are all at different stages in our self-acceptance and self-awareness.  And how those who are uncertain about what their own story is have an important decision when they listen to others' stories, either one of shame and disconnection or one of motivation and permission to let people in.  Come learn about what to expect from the series and how we will work towards a fullness of life.  I am clear that this journey to self-love does not lead us to a life of self-absorption but one that full through the serving of others.  I can't wait to share these messages with you!!!  I will also share more about my opportunity to speak in an upcoming women's retreat, contribute to a book, and the launch of a new social media campaign to allow everyone who wants to share their story an opportunity to do so!!
I am sooooo excited to give more of you a chance to share your story, actually anyone who wants to really!.  As of right now I am able to only share one story a week with you on my podcast.  I'll never get through tell the stories of the world that way so here is my chance.  I would love all of you to briefly share a piece of your story on Instagram or Facebook, whatever that looks like.  And then share what this has taught you about yourself and how has it changed the way you see yourself and the world around you.  Share it in writing, share it in a video.  Take a photo of yourself holding a sign saying #lifebeatsforme.   Write your own or download mine straight from my website www.thelifebeatsproject.com  Lets be the spark to break down barriers between us, fight the urge to not share, you are so worthy of inspiring others with your story.  You need to recognize its worth and they need to hear it.  Allow the LifeBeats within you a chance to reach out to others and to connect and resonate with the LifeBeats of others.  What you have gone through, what you are doing now, the good you are doing in the world, the struggle you are currently in, your own journey is worthy of inspiring others right where you are.  Be sure to tag your story with #lifebeatsforme and @lifebeatsproject so that myself and others can find them.  Each Friday I will be selecting one of your stories to share on my Instagram and Facebook pages.
I cannot wait to read your stories.  The world needs you.
Want to know if this episode it for you?  This episode is perfect for someone who struggles with knowing their own story or their own worth.  It is perfect for someone who is ready to discover what it is they have to offer and want support and help to do so.  It is also wonderful for those wanting to know more about The LifeBeats Project, how it began, who it is for, and what LifeBeats are.
What is this episode about?   In this episode you will learn about:
my story of life changes when my husband was diagnosed with an aggressive case of Multiple Sclerosis
what magical thing began to happen as I shared my story on my blog
where the passion came from to tell others how amazing their story is
what the purpose of The LifeBeats Project is
who The LifeBeats Project is for
the levels of involvement you can experience with this podcast
what are LifeBeats and how do they connect us and why are they important
my podcast from my car
what I have been working on over the past couple of months
how one listener's comment directed me to know where to begin
the changes I will be making with the podcast each month and how it is a direct result of your input
why this LifeBeats Project community is so import
how to some is given to share their stories and to some is given to learn from them as they discover their own
the important decision that those uncertain about their own stories have to make, whether they will turn to shame and disconnect or motivation and letting people in
how we are all at different stages of self-awareness and self-acceptance
how this self-love does not lead us to a life of self-absorption but one of service as we move toward a fullness of life
how for me personally a fullness in life can only be as I see myself in relation to my God and how I believe it is only through His divine help that the illumination of my full self can begin
how we will explore a relationship with God sometimes but that we will be focusing on simple, though not easy, things anyone can do to help find the extraordinary
for those who share my belief in God, involve him in your journey
for those outside the belief in God, how I encourage you to connect with a higher power : the goodness of humanity, law of attraction, love, or nature
the Lifeline series and where the name derives and what to look forward to in the months ahead
the women's retreat Divinely Feminine I will be speaking at Oct 28 and 29th
the book I will be contributing to Lioness Calling
a 4 week group mentoring course for teen girls called Confidently Beautiful
the social media campaign #lifebeatsforme to share all of your stories
Show Notes:
My first solocast: "Seeing yourself as you really are and embracing your superpower (TLBP #19)"
My very first podcast "Welcome and Introduction to The LifeBeats Project"
My personal blog Sweet Dreams are Made of These www.journeywithjohnsons.blogspot.com
My podcast with my husband as my first guest "Keeping perspective when there are things you can't change | with Mike Johnson (TLBP #2)
Email me: [email protected]
My Instagram account @lifebeatsproject
My Facebook page The LifeBeats Project
Shawn Achor's book "Before Happiness"
Divinely Feminine women's retreat
Confidently Beautiful 4 week series for teen girls
Printable of social media campaign sign #lifebeatsforme
Podcast: Play in new window | Download
Subscribe: RSS