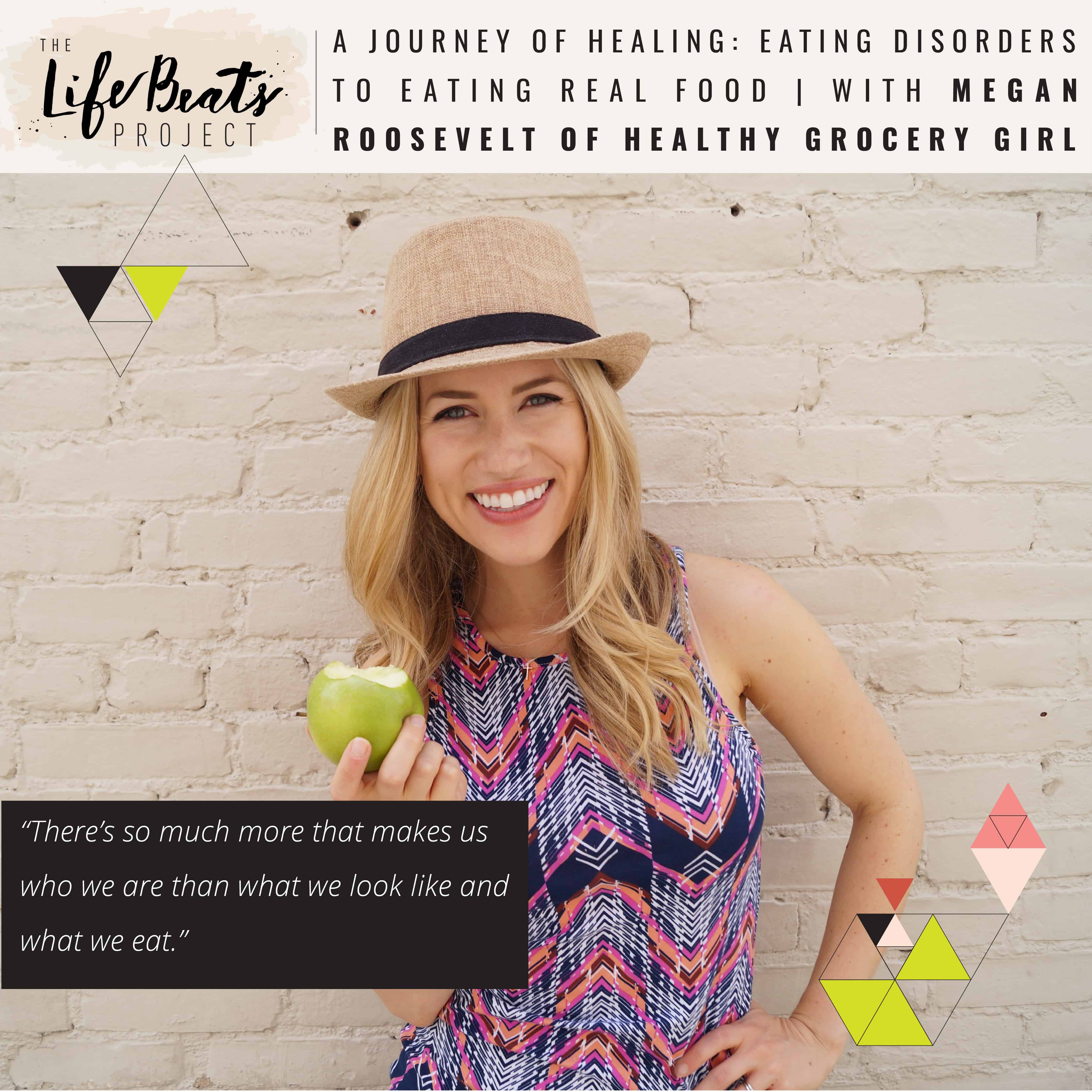 Today's guest battled with eating disorders for many years and has gone through a process of healing to now living a life devoted to educating people on the benefits of eating real food.   Megan Roosevelt, The Healthy Grocery Girl, shares the event that spurred her struggles with anorexia, bulimia, and disordered eating and then the feelings that took over and propelled her downward. She tells of the turning point where she realized she was slowing killing herself and those things that helped her on her path to recovery, as well as how she changed her perspective on trying to better her body by depriving it to bettering her body by feeding it.  She also shares some specific things that people in her life did to help her feel accepted in the midst of her battle.  Megan is now a certified dietitian and through her website and YouTube channel The Healthy Grocery Girl is able to share with thousands and thousands how to help nourish your body by giving you the tools to shop, cook, and eat plant based.  She shares her philosophy of progress over perfection in eating as well as a judgement and stress-free approach which encourages people to take what they learn and implement it how best it fits into their life.  I learned so much from her on what eating plant based and real food means and the research behind it as well as some yummy, easy sounding recipes I can't wait to try, and that says a lot.  You will be informed and inspired by her message that there is so much more that makes us who we are than what we look like or what we eat.
Podcast: Play in new window | Download
Subscribe: RSS
Want to know if this episode it for you?  This episode is perfect for someone who is looking for inspiration on eating healthier, for someone who may be struggling with feeling broken or unloved, particularly those battling eating disorders.  It is also great for someone interested in learning about eating, shopping, and cooking plant-based and real food.
What is this episode about?   In this episode you will learn about:
what spurred Megan's struggle with anorexia, bulimia, and disordered eating
how eating disorders are rarely about the food
how faith and her relationship to God helped her change
what was the turning point where she realized she was slowly killing herself
what is the best thing you can do to help someone in your life that is battling with an eating disorder
how running is a metaphor for life
what resources helped in her healing
how she chose to be a dietician
what inspired her nutrition philosophy
why she began Healthy Grocery Girl
why her husband joined her in the business
what plant-based and eating real foods means to her
what her apprehensions are about eating animal-based food
how her husband decided to join in eating plant-based
what you can expect when you go to the website or YouTube channel Healthy Grocery Girl
what the philosophies are behind her business
how she can help people with specific health concerns
what she does for food when she travels
some convenience items to eat
a favorite yummy recipe
Show Notes:
Healthy Grocery Girl YouTube channel
Megan's personal health story video
Healthy Grocery Girl Instagram
Healthy Grocery Girl Facebook page