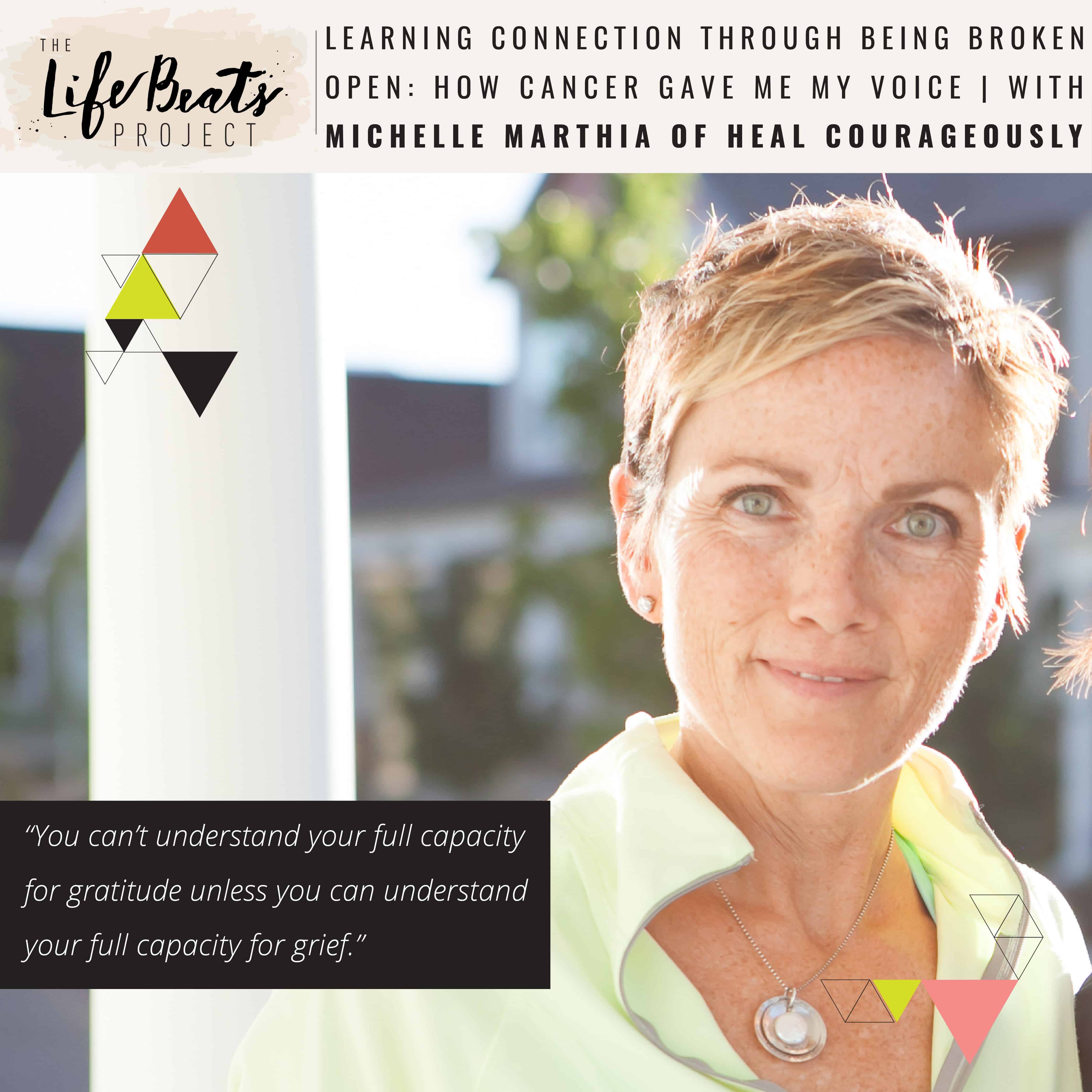 Michelle Marthia of Heal Courageously shares her story of growing up without connection, on her own at a very young age she began searching for this connection but could not find it.  Her resiliency was tested and she held everyone at arm's length holding in feelings of hurt and betrayal.  It wasn't until many years later when she was diagnosed with breast cancer that her life was transformed by her illness.  She finally found her voice, her community, her purpose.  She had never had known that she hadn't been vulnerable or open to really connecting to people until she got sick.  She shares her experience of fighting for her life, but having to watch as friends, those people she had finally found connection with for the first time in her life, lost their life, and the responsibility she felt because she had survived.   She shares her story that inspired her to found Heal Courageously, a non-profit organization which provides a free service to those dealing with life threatening illness – patients, care givers and survivors in which photographers volunteer their time to capture life just where they are, in what Michelle calls "the night side of life", this time of life that shapes us the most.  She gives them the opportunity to to reflect back on those things that cannot be taken by illness.  Michelle offered this incredible service to our family and I was so honored and excited for the opportunity. Check out the podcast to learn more about our beautiful experience and be sure to check out my Instagram and Facebook pages for sneak peeks for when they will all be posted on my personal blog www.journeywithjohnsons.blogspot.com
Want to know if this episode it for you?  This episode is perfect for someone
What is this episode about?   In this episode you will learn about:
Show Notes:
Email [email protected]
"Illness as Metaphor" by Susan Sontag
"The Emperor of All Maladies" A biography of cancer by Siddhartha Mukherjee
Heal Courageously Facebook page
Illustrator, writer, and kickstarter Ashmae Hoiland who spoke to us on overcoming self-doubt and finding our brave has just released her cards 'We Brave Women'.  If you missed her early episode #3, you definitely want to go listen.  These cards celebrate stories of women throughout history.  Each of the 60 cards feature a beautifully hand-painted portrait with stories, facts, and a quote from each woman and are kept in a beautiful sturdy box.  I was elated to receive the box and to admire its beauty.  I loved that on the front of the box was an empty cameo oval that says, "You Belong Here" as if it was waiting for your portrait to be housed alongside these other brave women.  Ashmae shares my passion for storytelling, knowing that by sharing these stories of women with our children we will help them to gain their own feeling of belonging and permission that if she can do it, I can do it too!  I am so excited to be offering a box set of these We Brave Women cards as a giveaway this week to one of our LifeBeats Project listeners to help celebrate reaching 5000 community members on Instagram.  Yay, thank you friends!!
One blessed listener will receive one beautiful boxset of 60 We Brave Women cards by entering with 3 easy steps:
Follow @lifebeatsproject and @birdsofashmae on Instagram
Subscribe to my podcast in iTunes –  Search for The LifeBeats Project in the iTunes Store under Podcasts and then click 'subscribe' below Mike & I's photo
Look for the giveaway post on Instagram of the We Brave Women cards and comment with the word 'subscribed' and two friends who would love a chance to win
The giveaway will run from Monday night August 1st to Friday August 5th at midnight MST.  Fingers crossed for you my friend.
Podcast: Play in new window | Download
Subscribe: RSS