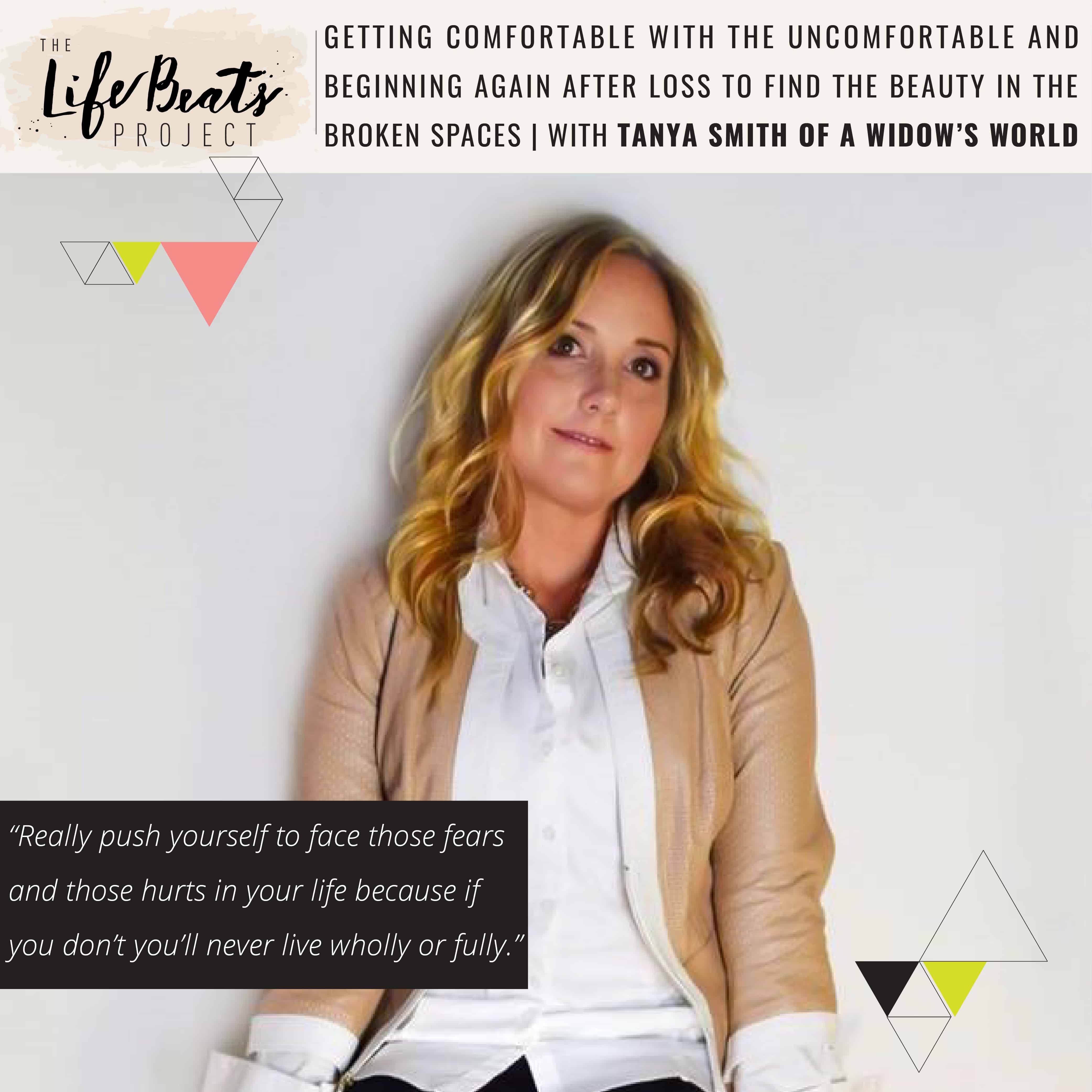 Friends on today's episode I am grateful to be able to introduce you to Tanya Smith of A Widow's World and Addelise Inc, a remarried widow and mother of 2 with a passion for not only supporting widows in their journey of healing, but also to help other women entrepreneurs reach their full potential and see that you can find beauty in the broken spaces of your life.  Tanya shares her story of an unraveling family life in a small midwest town that left her feeling that she would never rely on a man or put trust in a relationship.  Seeing her mother work hard for her family and learning that life is hard but is what we decide to make of it, she worked 3 jobs to put herself through college.  She met John who drew trust out of her and helped her to believe in real love that could last a lifetime.  After one year of marriage and seven years together they were getting ready to break ground on their property to build a home when John was stung by a bee.  Tanya shares the heartbreaking events of losing him and the conflicting emotions of helping to transport his harvested heart in a cooler to an airplane bound for New York to help save someone else's life.  She tells of the days and years ahead full of hope, support, but also self-destruction, and not wanting to go on without him.  She shares what she began to do to heal and to learn to trust her inner self to step into who she was meant to be. She explains her term for widows as keepers of the flame and helps them and others to understand that the loss and love is never going to leave and they will never get over it but they can embrace their story and they can find love again.  She explains how it is possible for her to love her first husband and now love her second husband.  She tells of her experience on the 10th anniversary of her first husband's passing and how she was able to look back at her broken self and see who she has become and how important it is that we acknowledge and take pride in seeing what we've overcome.  Listen and be inspired to began again and see beauty in our brokenness.
Want to know if this episode it for you?  This episode is perfect for someone who has lost someone they love, especially a spouse and is looking for support, hope, and evidence that love is possible again.  It is also perfect for anyone who is looking for a new beginning, who is wanting to heal, and is ready to make a choice to make life what they want out of it.  It is also perfect for someone wanting to understand the widow's heart and how it is possible to love more than once.
What is this episode about?   In this episode you will learn about:
why Tanya left being an executive at a multimillion dollar company to begin her own marketing company to support entrepreneurs build their dreams and why she began A Widow's World
putting yourself out there and being so vulnerable and why hitting publish can be so scary
how Tanya learned that no one is going to hand us a thing, we really have to put out what we want to get
Tanya's lesson to get comfortable with the uncomfortable and how every next level of yourself will demand a new you, a better you, and a more learned & attuned you
how she grew up in small midwest town with a graduating class of 18
how at the age of 13 parents' marriage unraveled and how she felt like she was the one that needed to hold things together
how her mom worked really hard and rooted them in belief system and faith
how Tanya pushed through her independence and learned that life is hard but its what we decide to make of it
John, her high school sweetheart and how he drew trust out of her because after her dad left thad thought would never rely on a man or put trust in a relationship
how John made her believe in real love that could last a lifetime
Tanya and John being together for 7 years, including married for one
how they were preparing to break ground on their property to build a home when John was stung by a bee that caused him to code even though he was not allergic
how Tanya had a panic inside but believed everything would be ok
John coding twice but then came back for 3 days in the hospital until there was no brain activity
how he helped save 6 other people through organ donation
the events of Tanya watching through a chain linked fence as John's organs were being brought to planes and how she herself carried the cooler with his heart in it
a rainbow of peace that appeared between the two planes
how John wanted to be a storm chaser and how Tanya had worried about them dying together, but how she then wished they could have
Tanya's concept for A Widow's World of keepers of the flame
how Tanya and many other widows have moments where don't want to go on living without their loved one
Tanya recalls the first time someone calls her a widow
how we have the power to take what happened to us and do something good with it
how we have to start trusting our inner selves and stepping into who we were always meant to be
the first thing that helped Tanya heal was thinking about how would John want me to live me life
her self destructive stage when she fell down stairs and the thoughts in her mind that  "you can't live in this place, this is not who you are"
the importance of journaling to heal, including writing down funny memories like their waxing eyebrow story
knowing in your heart you will never get over it
how widows are scrutinized by everyone on everything in regards to healing or not healing
how it was weird to feel a spark when she began to date Dave
the strange feeling realizing loved him but would always love John
how John never feels like she is holding back and how important it is for her to to be able to give him what he deserves
her advice to widow's to share your story in the beginning when dating and whoever is strong enough will remain
why she began a Widow's World and her desire to support and share others' stories
her purpose for her new company Addelise: to help people build their dreams
going back to a place 10 years later after her first husband's death to see who she was then and then seeing who she has become
her advice to say to go back to those places, face those fears & hurts or you're never going to be able to live wholly or fully
her advice to find pride in seeing what we've overcome and owning what we have done, sharing how it helps others
Show Notes:
A Widow's World website – her heart is to help empower and inspire other women through loss. She would love to connect with you here
Addelise Inc website – She is offering a free consultation to help you with business development ideas and discuss branding questions you have.  If you use her service to do your website, she will provide free social media branding.  Reach out to her at [email protected] and let her know you heard her on today's show.
Tanya's A Widow's World Instagram feed, Facebook Page, Facebook Group, and Google Plus account
Gift of Hope – Organ & Tissue Donor Network
***Do you want to come to our local Meetup?  RSVP at our Eventbrite event here!
Podcast: Play in new window | Download
Subscribe: RSS