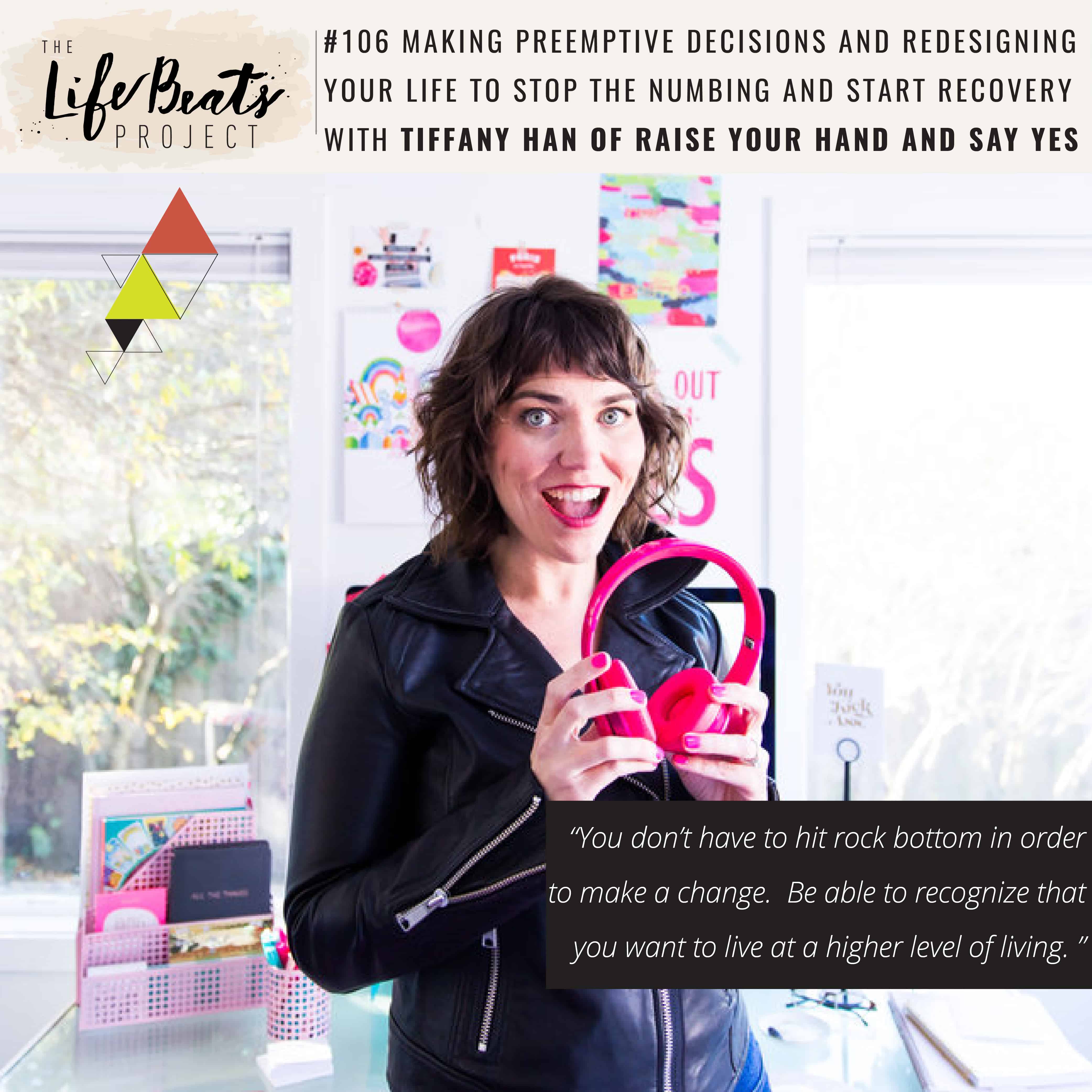 Today I am over the moon thrilled to bring you an interview with Tiffany Han, writer, speaker, truth bombing creative coach, strategist, and rockstar podcaster at Raise Your Hand and Say Yes.  I am so honored that she would share with us today her journey to recovery and discovery through her year and a half of sobriety.  Tiffany shares the identity she had with alcohol and the reasons and circumstances that led to her decision to give it up for a month, then year, and now permanently.  Her goal of her podcast is so similar to The LifeBeats Project, to help people see there's universality in the specifics of the story and this absolutely the case with her story.  She shares her belief that we are all recovering from something or a lot of things and how important it is for us to learn how to feel hard feelings and be uncomfortable in them which leads to redesigning our lives so that there aren't things we have to numb.  She tells of her intention to be preemptive in her decision to give up alcohol, realizing that we don't need to hit rock bottom to make a change, that we can decide if things are serving us or bringing us joy now before things fall apart or relationships are compromised.  She shares about the importance of paying attention to whisperings and her divine guidance system, an internal gps, and the creativity and peace that comes from making spiritual connection a priority.
Listen and be inspired to be preemptive in your decision making, evaluating each aspect of your life asking the questions "is this serving me?" and "does this bring me joy",  examine ways you may be numbing in your life and what you can do to redesign so that there are not reasons to need to numb, and look at ways you can be more in tune with your diving guidance system.
Show Notes:
Tiffany's website – Find out more about her year long creative mentorship program launching in September
Tiffany's podcast Raise Your Hand and Say Yes
TLBP Podcast with Alison Faulkner of The Alison Show: The Juggle is Real
The Life Changing Magic of Tidying Up 
Other podcasts on Tiffany's sobriety and spiritual journey:
There may be affiliate links that provide a "thank you" to me if you choose that they are a benefit to you.
Podcast: Play in new window | Download
Subscribe: RSS