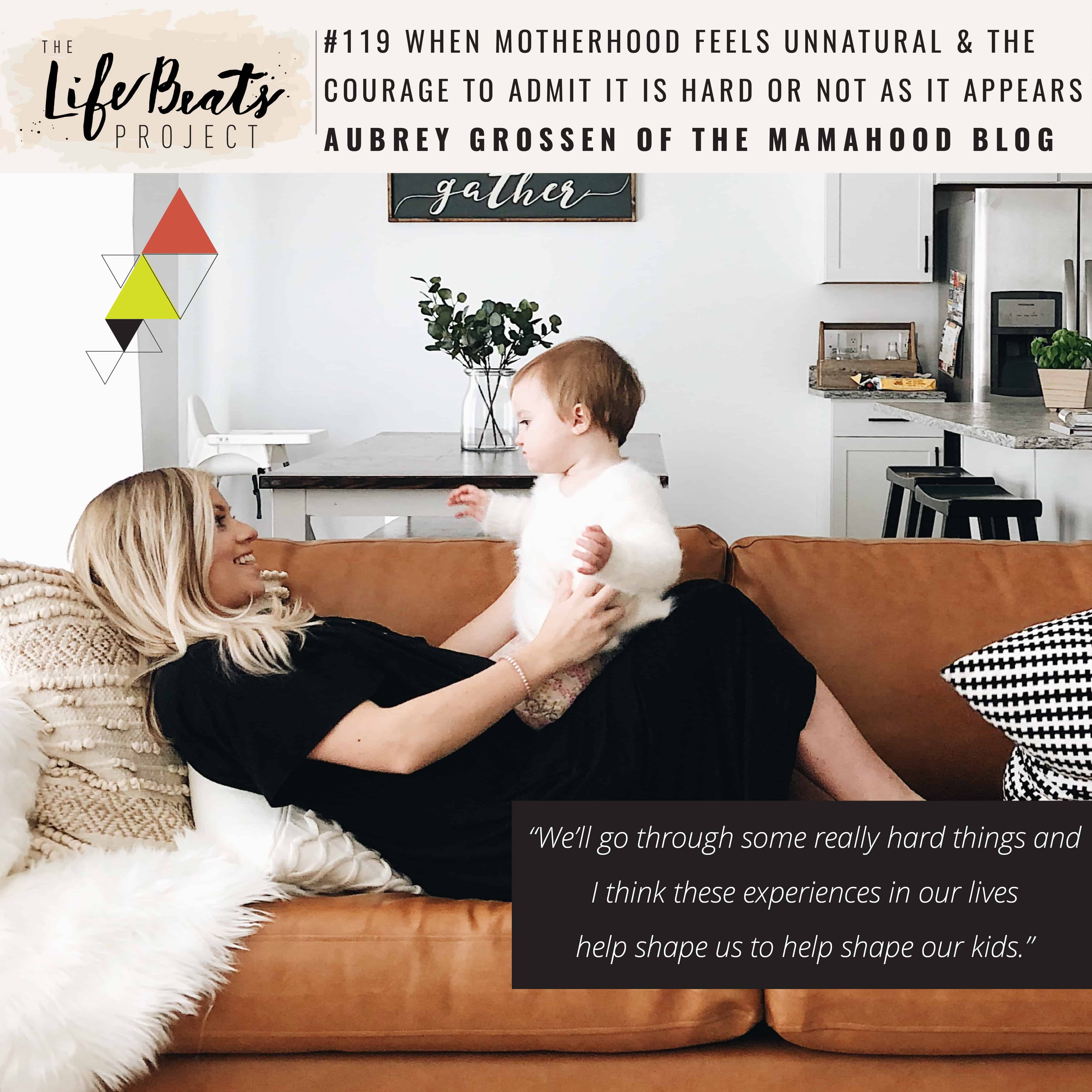 Today we have another podcast coming at you from the Stiry Studio.  This interview is for anyone who has struggled with motherhood feeling natural or with the balance of taking care of others and taking care of yourself.  Aubrey Grossen from the Mamahood Blog is open and willing to talk about topics that are often taboo.  While suffering from Postpartum Depression she started her blog and group of now 27,000 moms as a supportive space for moms to connect and ask questions, to know that they are not the only ones needing help with the same things.  Today we talk about things that helped Aubrey embrace motherhood and how fostering her identity outside of motherhood has made her a healthier mom  We also talk about the common feelings and thoughts she had during her darkest hours of postpartum depression, even ones of harming and suicide, that led to a moment in which she knew she had to speak up and get help.  She tells about the fear of telling her husband so that she could maintain the appearance of having things all figured out and the relief she received upon admitting to him and others that it was hard and unnatural for her that led to her coming back to herself once again.
Aubrey shares how she finds joy in the mom payday moments and the importance of what she calls a divine partnership that God has with motherhood and the difference being invested in that partnership has made in her life.
I also catch a mosquito bare handed in the episode and we do a lot of laughing.  Aubrey and the Mamahood Blog are now partnering with Stiry and we are doing some great things together including the releasing of the inspiring story of my past guest Jodi Orgill Brown called "You are Beautiful", a journey of finding your inner beauty.
Listen and be inspired to know that you are not alone in your struggles in motherhood, to find what gives you fulfillment as a mother and balance in taking care of others and yourself, awareness of what those with postpartum depression are experiencing, and encouragement to ask others for help and to know that its ok that you don't have it all figured out.
Show Notes:
The Mamahood Blog Facebook page and Instagram Feed
Request to join The Mamahood Blog Facebook Group by emailing [email protected]
Vanessa Ferguson Beauty – your stop for Lipsense and Senegence makeup
Podcast with Jodi Orgill Brown – TLBP #107 Taking charge of our own lives, the power of the individual, and pressing on to find a new normal
Jodi's Stiry Story video "Life is Beautiful"
The LifeBeats Project Instagram feed
Podcast with Hugh Vail –  TLBP #66  Finding emotional connection, how to be truly loved, and peace through vulnerability
Shawn Reardon's Instagram Feed
Kiln Space – provided the beautiful modern space
San Diablo Churros – sponsor of our Community Impact Awards and delicious churros
Anasazi Foundation – sponsor of Stiry's film "Life is a Walking"
Every Blooming Thing – sponsor of the stunning florals and styling
Tiffany Elizabeth – for event flow, vision, and genius and keeping me sane
Be You Women's Retreats – sponsor of our red carpet – the amazing retreat I spoke at in September – more coming up, definitely check it out
AD Photo Design – for snapping the red carpet and photo booth
Marco Polo App – for sponsoring our Step & Repeat – my favorite go-to app to communicate with my family & friends – the app all the celebrities are talking about – Listen to the podcast with founder Vlada Bortnik here  – Download the app here:
Right Gift – for sponsoring our Step & Repeat – to help you connect with and support non-profits
Mtn Ops – for sponsoring our Step & Repeat – fighting and conquering hunger
World Card Series – for sponsoring our Step & Repeat and giving us the 2nd set off the press of their Kickstarter card game bringing the world to your home – discover your world, discover yourself
Podcast: Play in new window | Download
Subscribe: RSS