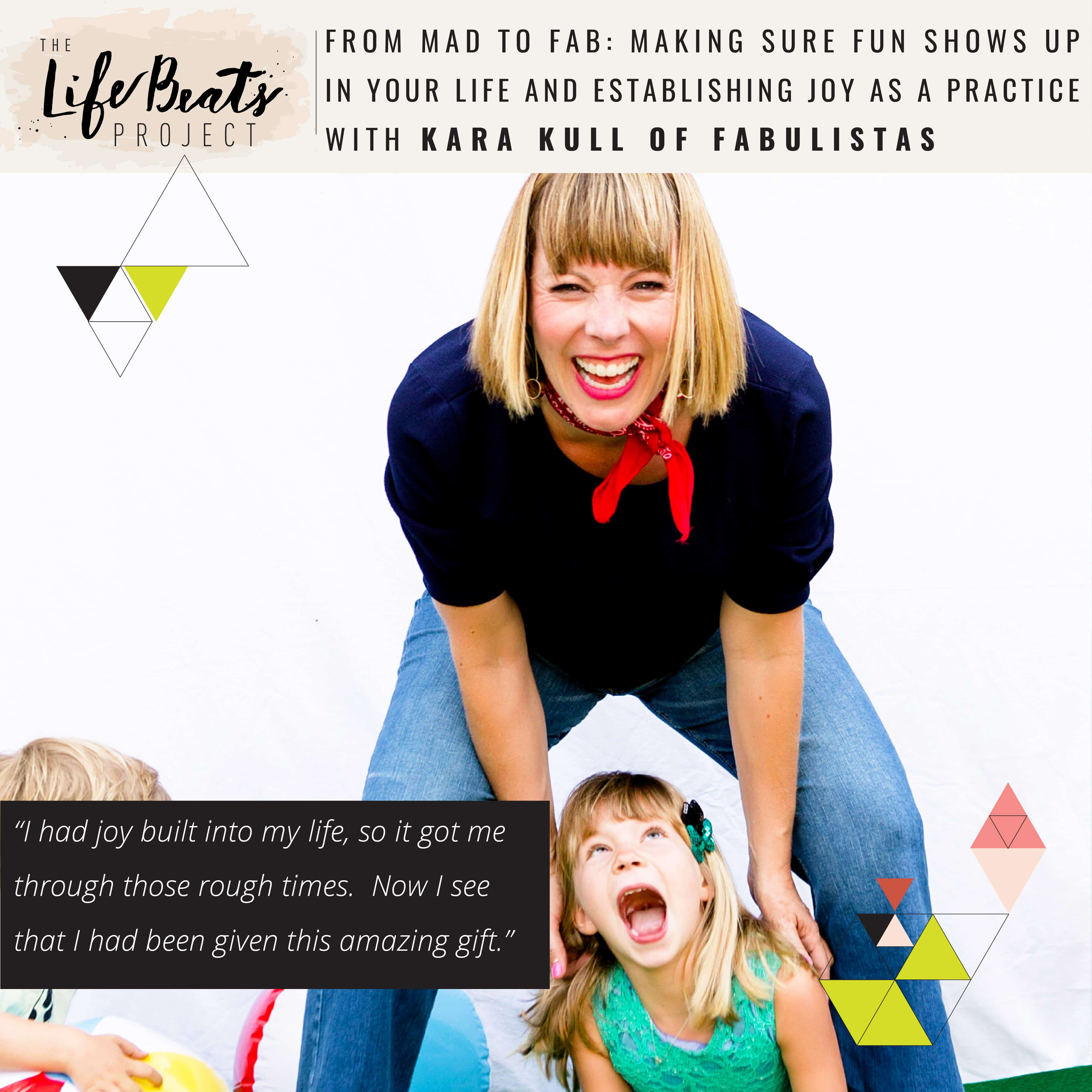 Kara Kull will have you laughing out loud and feeling refreshed with easy ideas on finding joy and fun in your own life and with your children in today's podcast episode.  She is the sequin and hightops behind Fabulistas and HowFab and one of those people that things just happen to, like your car window exploding at a stoplight or your necklace getting caught in your tights while you are on stage giving a speech.  Today she shares how she has battled with what she calls 'big emotions' including anger and depression and her long journey on learning to become more in control of these emotions to become a happy and fun person and mom.  She breaks her journey down into 4 phases and shares what each one looked like and how she progressed in each one.  Kara shares those things that have helped her to manage her emotions including naming the emotion, setting alarms, and finding a job that fit who she was-and boy she has had every job under the sun! She shares how she struggled with feeling like it was ok to be who she really was and that what she is really good at is knowing how to have fun and that is meaningful. She has dedicated her life to helping other moms to make sure fun shows up in their own life and with their kids as well as making having joy in their lives a practice.  She shares lots of simple ideas that can be implemented immediately that will save your sanity and help you to be the fun mom you've always wanted to be.  Be prepared to laugh and feel empowered.
You my friend can follow Kara's philosophy of running after your kids and still looking good by entering to win one of the five dresses we are giving away from Shabby Apple.  In conjunction with my fun and open podcast episode with Michelle, Brittany, and Roxana on post-baby body image, blogger friend Alycia Crowley, and Shabby Apple, the clothing store dedicated to celebrating the beauty in you, we are giving you a chance to glow this fall in a new dress!  Be sure to check out my thoughts on self-acceptance and all the fun photos of by Roxana B Photography of the five of us in our Shabby Apple dresses in my blog post tomorrow Sept 14 at www.journeywithjohnsons.blogspot.com
Then hop on over to Instagram @lifebeatsproject for a chance to win one of the five dresses we are giving away.  Look for the giveaway post of the girls and I in our Shabby Apple dresses for the details on how to enter!  The giveaway will run from Wed Sept 14th at 10am MST to Sat Sept 17th at 10 am.
Want to know if this episode it for you?  This episode is perfect for someone who wants to incorporate more fun in their life and their life with their children.  This episode is for someone who may struggle with anger, depression, or anxiety and wants to learn how to better manage those emotions in their life, as well as learning how to accept who you are and your own personal gifts.  It is also just right for a mom looking for lots of simple fun ideas to do with their kids.  And it is especially for someone is looking for a good laugh!
What is this episode about?   In this episode you will learn about:
why Kara says she is one of those people that things just happen to and her story of her window exploding and necklace caught in her tights
Kara's many many jobs including pedicab and voice-over artist
Phase 1 of her 'big emotions' journey and how she felt every emotion but didn't know what she was feeling so it came out as anger
why having strong emotions was challenging
how having a job that was a terrible fit for her increased affected her emotionally
how learning about herself and being ok with who she was helped her
why she felt like she had to hide who she was
why she felt guilty for feeling joy and happiness
how she recognized her gift
Phase 2 – learning how to manage these underlying emotions that often manifested as anger
how she worked really hard for the things she wanted to show up in her life
the key things her therapist helped her through
story of the soccer ball and how naming the emotion stopped her from spilling over
how she trained herself to listen to her inner voice
some of the things she read and listened to that helped her
the story of how she found her voice at dinner full of 10 3 year olds
Phase 3 – to make sure that joy was prevalent in her everyday life
how having fun with your kids doesn't need to be a big thing
Phase 4 – Fine tuning and evaluating your beliefs to see if they still hold true
being unattractively real
doing things just for fun, no endgame
lots and lots of fun things that you can do with your kids and the magic of bandaids
preparing for your kids boredom when out and about and setting parameters with them
doing things you like to do with your kids
Show Notes:
Kara on Snapchat, Facebook, and Instagram at @howfab
"Sequins + How I'm feeling ok about being their ambassador" blog post
Kelly Flannigan
"25 Things to Do with Your Kids"
The Juggle is Real:  Your gift, your business, and your family with Alison Faulkner of The Alison Show (TLBP #4) podcast
A journey of healing: from eating disorders to eating real food | with Megan Roosevelt of Healthy Grocery Girl (TLBP #21) podcast
Podcast: Play in new window | Download
Subscribe: RSS